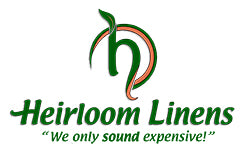 Heirloom Linens has been a family owned and operated business for 26 years:  Joan & Bob and their daughter Kristen. Famously recognized for the line "It only Sounds Expensive" in the Heirloom Linens commercials.
Heirloom Linens began the 12 Months of Giving Program 7 years ago and have made donations totaling $135,000.00 gifted to local community groups including CFAX Santas Anonymous Society. Each month they include the charities in other media such as newspapers, TV and social media.
Heirloom Linens is a smaller locally owned business  and they choose small local organization for their donations. CFAX Santas has been their charity of choice every November since they started the program.  
Locally owned businesses like Heirloom Linens make a massive difference in the success of CFAX Santas. Their loyalty and continued generosity help us make a difference in the lives of thousands of children.
Thank you, Heirloom Linens!