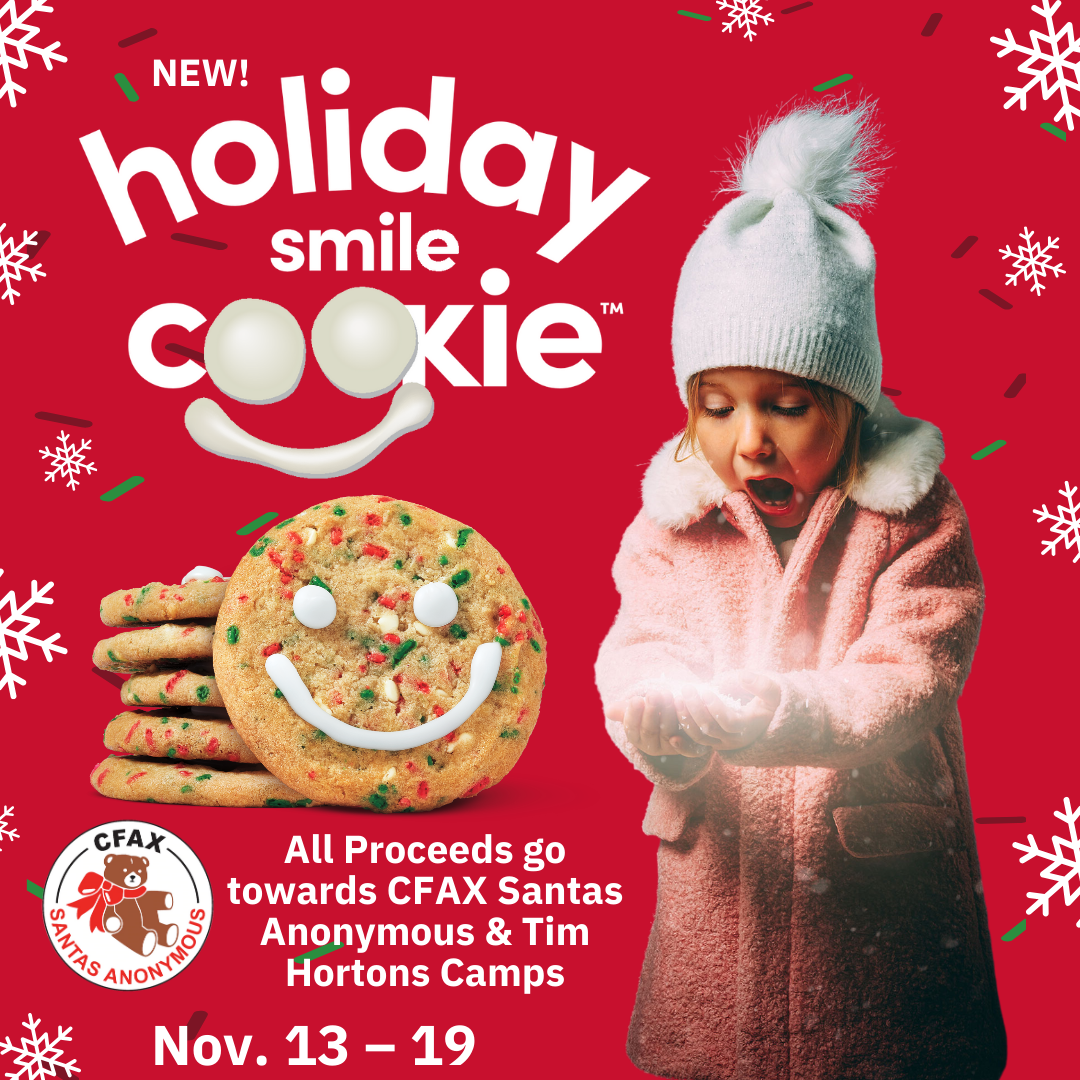 Tim Hortons has launched its first National HOLIDAY Smile Cookie campaign and CFAX Santas Anonymous Society has been chosen as the local charity for 21 locally owned Tim Hortons locations.
CFAX Santas will receive 50% profits of each cookie sold, and the other 50% goes to the Tim Hortons Foundation to help children.  
Holiday Smile Cookies can be purchased in Tim Hortons locations starting November 13 – November 19th!  Or you can bulk order cookies to share in your office, club, organization or family!
Holiday Smile Cookies cost $1.50 each or $18.00 per dozen.
Click here for an ONLINE order form
Click here for a printable order form
Print, complete and drop off your Pre Order Form to any participating location listed below:
| | |
| --- | --- |
| 4440 WEST SAANICH RD, UNIT 110 | SAANICH |
| 3501 RAVINE WAY, SAANICH PLAZA | VICTORIA |
| 3253 DOUGLAS ST | VICTORIA |
| 1410 BLANSHARD STREET | VICTORIA |
| 3147 DOUGLAS STREET, 280, UNIT 280 | VICTORIA |
| 150-31 HELMCKEN ROAD, EAGLE CREEK VILLAGE SHOPPING CENTRE | VICTORIA |
| 101-754 Fort St | VICTORIA |
| 2343 BEACON AVENUE | SIDNEY |
| 3990 SHELBOURNE STREET | VICTORIA |
| 1644 HILLSIDE AVE - UNIT 201 | VICTORIA |
| 1099 McKENZIE AVENUE, UNIT 1 | VICTORIA |
| 456A GORGE RD EAST | VICTORIA |
| 2680 BLANSHARD ST  - UNIT 3, BLANSHARD SQ SHOP CTR. | VICTORIA |
| 2950 DOUGLAS STREET, UNIT 100 | VICTORIA |
| 845 GOLDSTREAM AVE | LANGFORD |
| 2945 JACKLIN RD, CANWEST SHOPPING CENTRE, UNIT 840 | LANGFORD |
| 880 ESQUIMALT ROAD | VICTORIA |
| 102 - 2890 WEST SHORE PARKWAY, Unit# 102 | VICTORIA |
| 3150 Langford Lake Road | VICTORIA |
| 1820 ISLAND HIGHWAY | COLWOOD |
| 739 MC CALLUM RD. | LANGFORD |